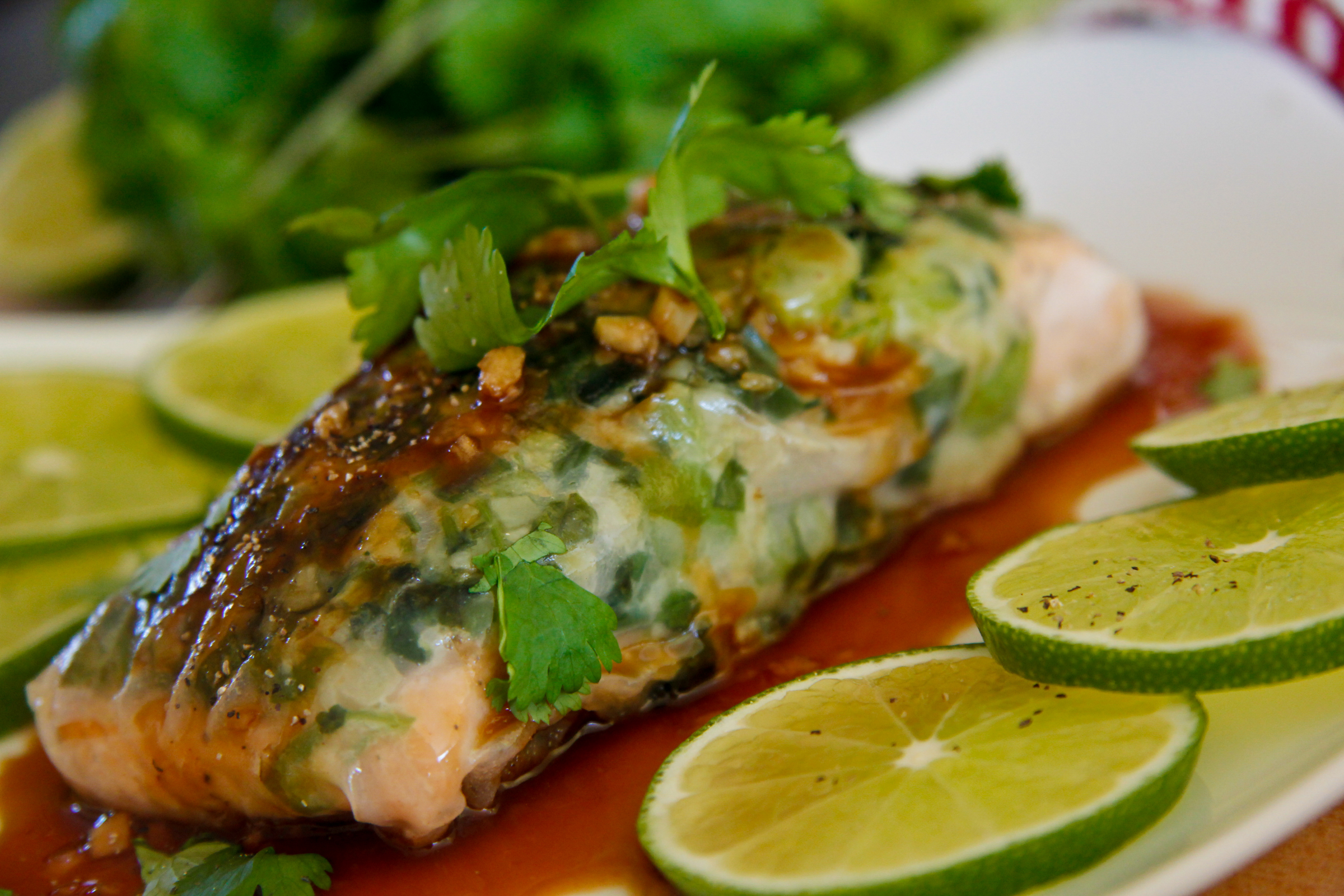 Confession: This recipe came out of necessity.  I was doing a catering job and I bought too many packages of rice paper.  Then I did some researching and realized that the rice paper could act as an envelope.  Immediately, I thought of the French technique of cooking fish in a parchment paper envelope, (en papillote). And then I thought, wouldn't it be CRAZY if we could eat the envelope as well?  Enter in salmon wrapped in rice paper.  
I'm also a sucker for any sauces that taste sweet and sour.  I figured, if I'm going to go with rice paper, I might as well push the envelope (haha) and just go ahead and use some Asian ingredients.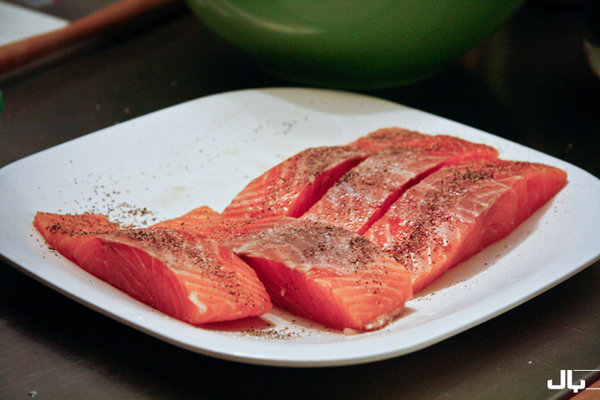 I started by taking a chunk of skinless salmon and cutting into thin even pieces.  In the following pictures, I was making this dish for a crowd, so I used more than 1 lb of salmon and had more than 4 pieces. So don't get confused! Then I sprinkled them with salt and pepper on both sides.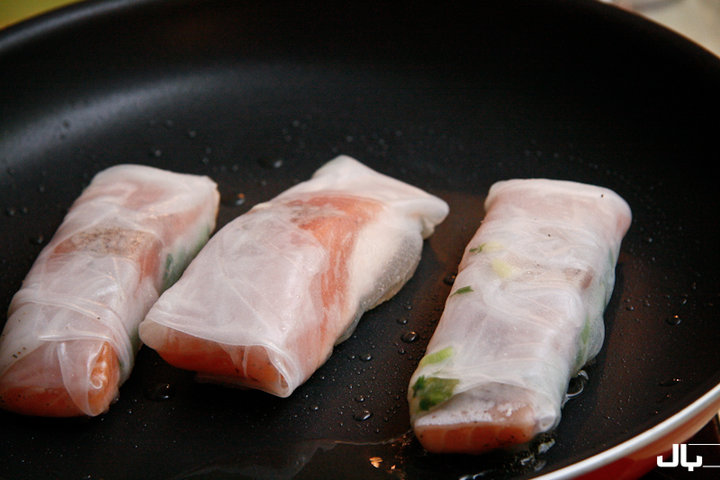 Then I topped them with sauteed ginger, garlic and herbs and wrapped them in softened rice paper. The pan-frying makes them crispy on the outside and the oven steams the fish to perfection.  Just resist the temptation to over-bake them, or they'll be dry.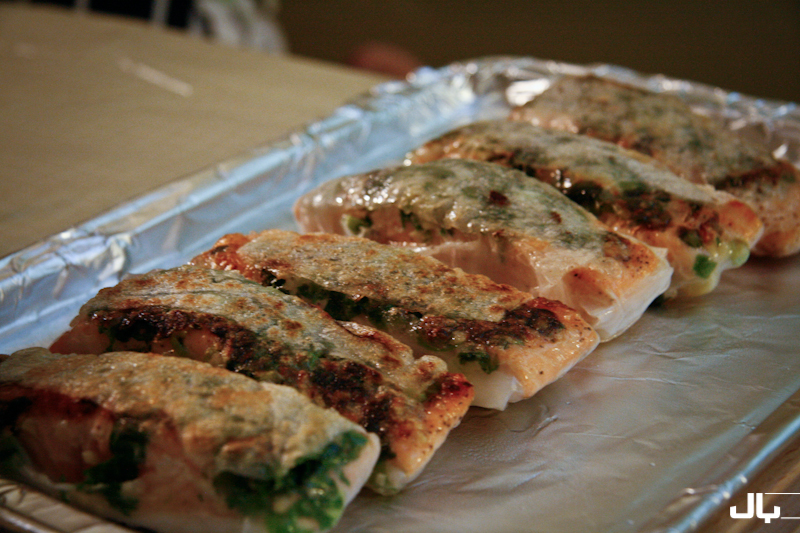 The fishy fishies are topped with an easy hoisin and lime sauce, that was born out of me not wanting to wash another pot in order to make a fancy sauce. Watch how I make them in our 6th video!
This is an easy yet impressive crowd-pleaser, so try it out when you're having a dinner party and serve it with some wasabi mashed potatoes, rice, or a crunchy refreshing salad…. oooh that sounds good.
Salmon Wrapped in Rice Paper
Prep time: 

Cook time: 15 mins

Total time: 45 mins
This recipe is a great way to impress your guests. They will think you're so fancy
1 lb skinless salmon fillets cut into 4 even pieces

Vegetable oil, divided

3 Tablespoons chopped garlic

2 Tablespoons peeled & chopped ginger

¼ cup chopped cilantro or parsley

½ cup sliced scallions

Four sheets of round spring roll rice paper

Salt & pepper to taste 
For the Hoisin Lime Sauce
¼ cup hoisin sauce

¼ cup orange juice

1 lime, juiced

2 garlic cloves, finely minced
Preheat the oven to 400 degrees.

Season both sides of salmon pieces with salt and pepper and set aside. Heat oil in a saute pan and saute the garlic and ginger until softened, but not browned; then add cilantro or parsley and green onion, and cook for 30 seconds. Remove from heat.

Carefully moisten 1 piece of rice paper in warm water for about 30 seconds until softened, and then spread out on a cutting board and lightly pat dry with a paper towel.

Put 1 heaping tablespoon of the ginger-garlic-herb mixture on the center of the rice paper and spread it around a bit, so that it will evenly cover the surface of a piece of salmon. Place salmon on top, and tightly fold ends of the rice paper up and around the salmon to make a package, like you're making a burrito. Repeat with all pieces and place salmon bundles aside to set in the refrigerator for at least 5 minutes.

Heat a large skillet with vegetable oil. Once the oil is hot, add bundles to the pan, sealed side down, and brown for about 1-2 minutes. Once the one side is browned, carefully flip the bundles and brown on the other side for about another 1-2 minutes. Be careful not to rip the delicate rice paper.

Transfer to a lightly greased baking sheet, presentation side-up and pop into the oven to cook for about 6-7 minutes to finish cooking the salmon on the inside.

Place all ingredients for the hoisin lime sauce in a liquid measuring cup or bowl and microwave for 1 minute. Stir well. Drizzle over the salmon bundles and garnish with chopped cilantro. 


TIP: Resist the urge to over-bake the salmon, or it might dry out. Remember, the pieces of salmon are small, and even out of the oven, they continue to cook through carry-over cooking.
Tracy (Ms)
Mobile: +84 1679922718 (Viber, Whatsapp)
Mail: sales6@safimex.com
Skype: huynh.thuy66
SAFIMEX JOINT STOCK COMPANY
Head office: 216/20A Duong Ba Trac Street, Ward 2, District 8, HoChiMinh City, Vietnam.
Tel: (+84)-(28)-3636 2388 | (+84)-(28)-3636 2399
Web: www.safimex.com